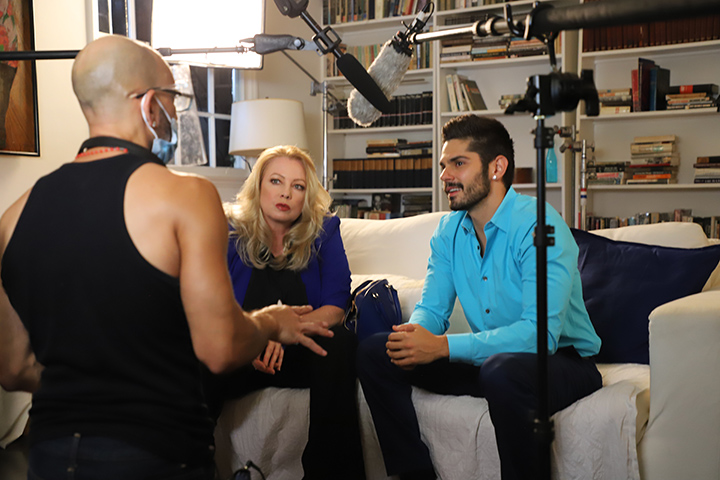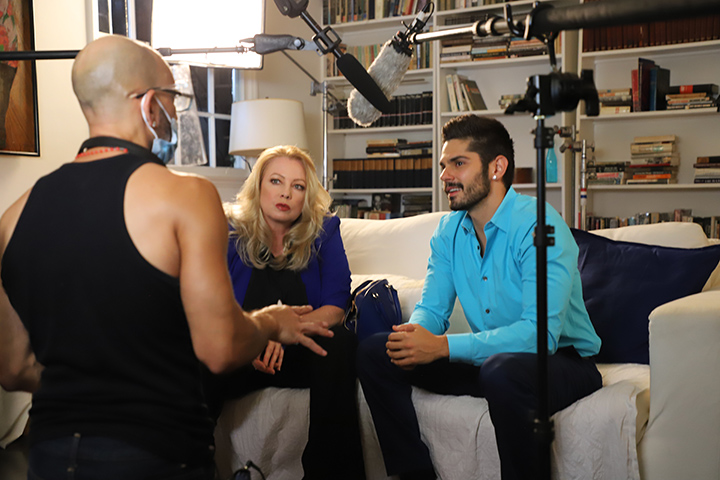 Breaking Glass Pictures Announces Successful Wrap for Covid-Compliant, LA-Shot, Dark Comedy Waking up Dead
Breaking Glass Pictures would like to announce that production has wrapped on the dark comedy, feature film Waking Up Dead. The movie was shot in Los Angeles and produced fully Covid-compliant based on all SAG, county and state mandated protocols. This sexy dark comedy stars Gabriel Sousa (MARVEL'S Agents of SHIELD), Traci Lords (Cry-Baby, Melrose Place) and Judy Geeson (To Sir, With Love, Mad About You).  Visit Healthcare provided continuous on-set testing of all cast and crew in compliance with The Safe Forward guidelines issued by SAG, the DGA and IATSE.
"I think this shows that even a micro-budget project can safely and successfully shoot in Los Angeles while being fully Covid-compliant," writer/director Terracino said. The director, who is a Dominican-Italian American, added, "I don't think artists, especially artists of color, should be sitting on our hands right now. I think we need to be adapting to the circumstances, shooting our stories and getting them out there."
Waking up Dead is an uncomfortable comedy about suicide, assholes and a heartless Hollywood agent. The story focuses on Sousa as hard-partying, self-absorbed Danny Maldonado, a once-promising Hollywood actor (his claim to fame was his guest arc as a narcoleptic rapist on SVU) whose life and career have hit rock bottom. Geeson, in her first major screen role in years, co-stars as Lila, a former actress turned real estate agent who senses that Danny is spinning out of control and tries to intervene. Finally, Lords plays Phyllis, Danny's caustic grade-B agent who drops by to explain to Danny just why there are so many assholes in the world.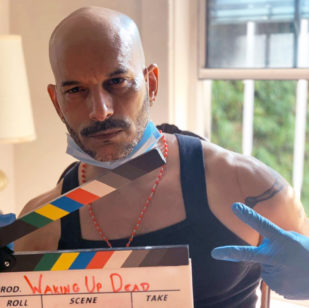 Terracino's prior feature, Elliot Loves, played Outfest and over 75 other festivals worldwide and was picked by HBO and HBO Latino for exclusive cable and streaming. His short, My Polish Waiter, played Sundance and New Directors/New Films.
Patricia Mckenzie, Joe Bohn, Emmi Grullon, Gary Smith and Dayo Beverly produce. The film was cast by Barden/Schnee (The Help, Boys Don't Cry, Dallas Buyers Club).  Rich Wolff serves as executive producer. His company, Breaking Glass Pictures, will be distributing theatrically in 2021.
"It is an honor to be producing with Terracino as I was a huge fan of Elliot Loves" said Wolff. "I'm certain Waking Up Dead will be the sexy Latino sleeper hit of 2021!"
 WAKING UP DEAD
Genre: Dark Comedy
Rating: NR
Language: English
Year: 2020
Status: Post-Production
Production Co.: Papi Chulo
Run Time:  80 min
Cast: Gabriel Sousa, Judy Geeson, Traci Lords, Nelson Arrieta Jr., Caio Ara, Cody Renee Cameron
Director: Terracino
Writer: Terracino
Producers: Patricia Mckenzie, Joe Bohn, Emmi Grullon, Terracino, Gary Smith, Dayo Beverly
Executive Producer: Rich Wolff
Casting by: Barden/Schnee
Breaking Glass Pictures is a leading film distribution company in North America. Our focus is distributing unique, quality independent films across major digital platforms, virtual theatrical, television and educational. We work closely with filmmakers, production companies and sales agents, to create the most intelligent film distribution plan. We also work as an international sales agent at film markets across the globe. With BGP, you get an entire team committed to getting feature length films into millions of homes worldwide. Visit our website to learn more.