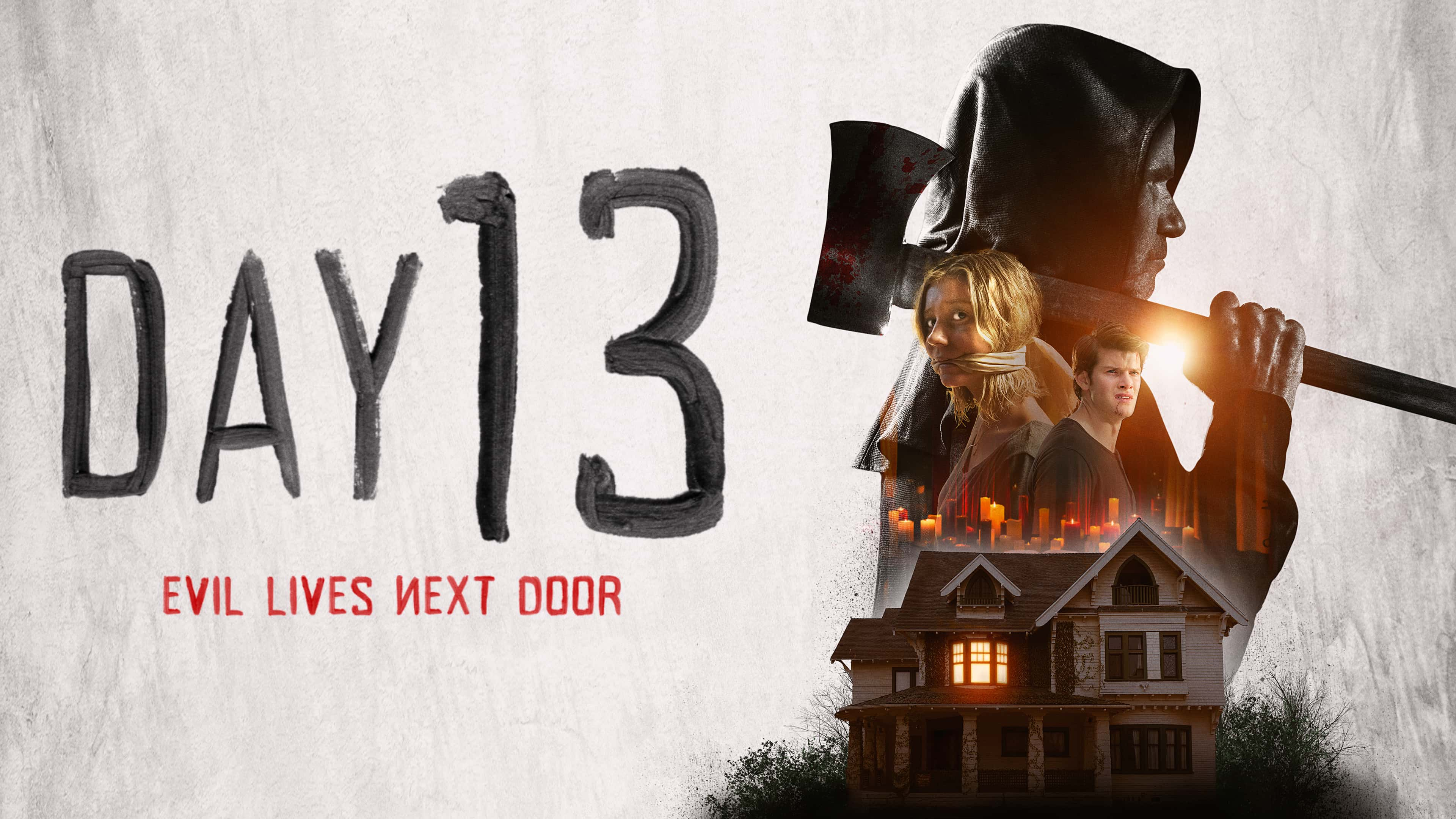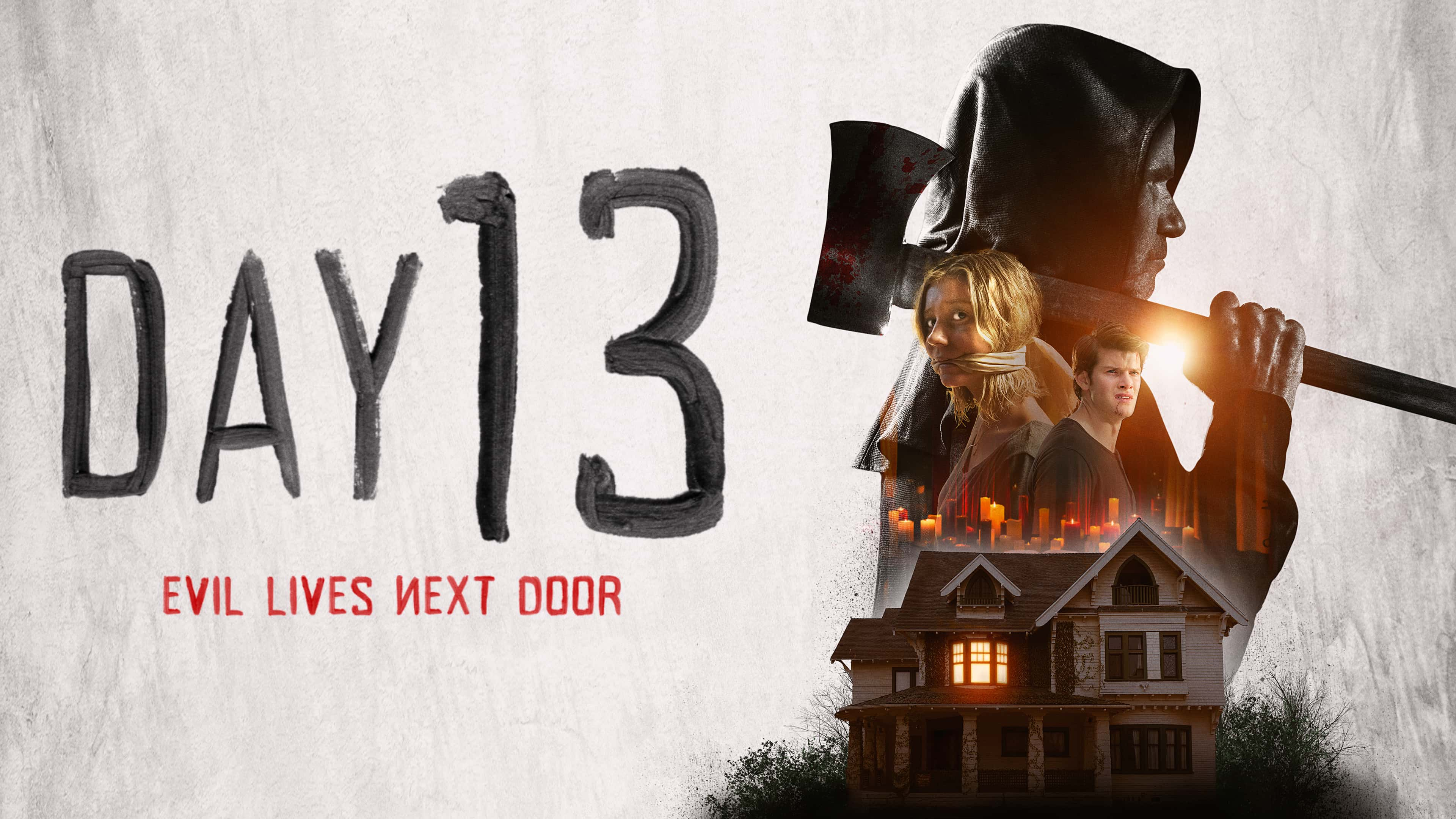 Originally posted on Killer Horror Critic
There's a special place in my heart for movies that know exactly what kind of crazy they are and aren't afraid to go full throttle into it…You know the ones. They're prime feel-good escapism. The ones that, no matter how scary (or not) they are, feel like wrapping up in your favorite blanket on a cold night. The 2000s were full to bursting with this kind of cozy, crazy, I-know-what-I-am-and-I'm-taking-you-with-me horror, and Day 13 feels like a slightly updated callback to this golden age of the unexpected gem.

Directed by Jax Medel and written by Dan Gannon and Walter Goldwater, Day 13 is like if 2007's Disturbia took a dip in a pool of the Satanic Panic of the '80s. Colton (Alex MacNicoll) knows there's something weird going on in the house next door. Determined to find out the truth, he sets up a series of cameras and starts spying. One day, while trying to find a way in, he stumbles into Heather (Genevieve Hannelius, making what appears to be her horror debut), the new resident of the previously abandoned house. Flustered at the encounter, he stumbles his way through an apology and wanders home…but doesn't stop recording and watching the house. Heather was short in her responses, but also the first girl we're to understand the tragically awkward Colton has talked to maybe ever, and he feels protective of her almost immediately. After capturing some seriously weird footage of Heather's father, Magnus Torvald (Martin Kove), Colton begins to fear for Heather's life and sets about finding a way to break her out.

There are things about this film that leave something to be desired, yes. The script is very "high school boy desperately wants to save beautiful next door neighbor and fall madly in love with her", and some of the delivery isn't the best, but it does have its clever moments, and the atmosphere of the whole thing brings you in before you even realize. My favorite line in the whole thing is a sort of squishy moment in the midst of the action, when Colton is trying to pull Heather up and she tells him he's crazy for trying to save her. His response? "Fools rush in," which, friends, is a nod to one of my favorite songs to ever exist, "Can't Help Falling in Love," and thus my heart melted.

One of my favorite things about Colton is that he's not written to be your usual high school dude looking to hook up with the girl at the end. He genuinely has his mind on protection, and he genuinely cares about Michael (JT Palmer), the friend he enlists to help him uncover the secrets of the house. Before heading into the belly of the beast they have a moment together where he even tells him he loves him! It warms my heart when male characters are written with more emotional depth than usual, especially in a movie of this type where we wouldn't expect to see it.

I have two favorite things about Day 13. First, the sound design. The atmosphere of this movie would not be the same without it. I don't know how to explain it exactly, but the mood evoked by the score in this film transported me to a spooky autumn night curled up with a blanket and a fire. I couldn't help but feel what a fun movie it would be to watch at some Halloween sleepover. That's my other favorite thing about it, in fact. It's so much fun to watch. It never takes itself too seriously, but it knows exactly what it is and isn't afraid to go full steam ahead into the crazy. I found myself smiling the whole way through, after a bit of acclimating to the tones of the characters. Day 13 knows itself so well, in fact, that I found it answering my questions right when I got to the edge of asking them. Part of the entire premise of the film is Colton babysitting his sister Rachel (Meyrick Murphy), yet we go whole swaths of time without seeing her. But every time my brain reached the precipice of "where did his sister go?" there she was.

Surprisingly, there weren't a lot of loose ends or forgotten pieces here. Everything had its purpose, even if that purpose never went below the surface. It's not a perfect film, and it's not the scariest. It's supernatural Disturbia lite, and tons of fun along the way. If you're looking for something to put you in that comfy spooky mood, and 2000s horror hits the spot for you, Day 13 is the next movie for you.
A review of Day 13 by Katelyn Nelson – August 4th 2020
Day 13 is available to stream now on all major platforms!
---
Breaking Glass Pictures acquires and directly distributes independent films in North America. We feel honored to work with so many established and up and coming filmmakers, producers and sales companies, bringing their work to the masses. The world of film distribution is complex and ever changing.
At BGP, our team has the experience and industry connections you need, to implement a far-reaching, successful release. Our vast library of over 400 feature films, including most genres, are running on the top digital platforms.
As your distribution partner, Breaking Glass Pictures will play an essential role in your film, and we take that very seriously. Our strong relationships with key providers allows us to implement successful distribution services for Digital, DVD, Theatrical and International.
If you have a film that needs distribution services contact Rich Wolff @ BGP at (215) 715-6327.